Introducing the next generation of reactors - the new OptiMix®-HE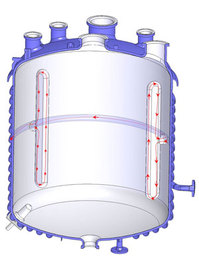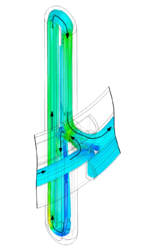 DDPS has extended the range of the OptiMix reactor to provide improved heat transfer and reduced processing times.

This new design circulates the thermal fluid contained in the half-coil through the baffles. This results in an increased heat transfer area up to 25% enabling a more homogeneity, faster thermal management and shortened cycle times.

Learn more about OptiMix:


OptiMix Product Description
OptiMix is a patented reactor design that optimizes the mixing performance of glass-lined reactors by integrating three baffles on the vessel wall.


OptiMix Features
OptiMix reactors are lined with 3009 Glass for superior corrosion resistance. All clamped-top/CTJ OptiMix reactors come standard equipped with a pitched-blade turbine; closed-welded/GL OptiMix reactors include a GlasLock agitator with adjustable blades. A fixed speed drive is vertically mounted to keep nozzles and accessories unobstructed for operational use. OptiMix baffles are also available in QVF borosilicate glass reactor designs.


OptiMix Advantages
This innovative technology offers the following advantages:

Improved CIP efficiency by eliminating the difficult to clean top head pocket at the baffle/nozzle interface.
Vortexing and splashing are significantly reduced, resulting in less product drying and sticking to the heated wall above the liquid surface.
Design enhances heat transfer, solids suspension and distribution, gas dispersion, gas flow rates, and mass transfer through improved mixing.
Eliminates the need for top entry baffles, freeing up an additional nozzle for process use
The symmetrical baffling of the OptiMix reactor reduces shaft deflection and extends seal life by minimizing the bending loads that are imposed on the agitator shaft.
OptiMix Specifications
Volumes from 30 to 2,000 gallons (clamped-top/CTJ series)
Volumes from 300 gallons (closed-welded/GL series)
Pressures from full vacuum to 90/150 psig (6/10 bar)
Temperatures from -20°F (-30ºC) to 500°F (260ºC)
---
OptiMix Reactor System Profiles
System
Specialty Chemical Production Plant
Location
Western USA


Description of Equipment
Four De Dietrich glass-lined steel OptiMix reactors systems, 200 and 500 gallon capacity with:
Ta overhead condensers
Contained solid charging
HTM's
Automation and controls
Full function Factory Acceptance Test with water batches
---

System
API Production Facility


Location
Eastern USA


Description of Equipment
Two 100 gallon De Dietrich glass-lined steel OptiMix reactors systems with:
QVF glass piping and condensers
Custom layout for low ceiling installation
---

System
Specialty Chemical Production Plant


Location
Western USA


Description of Equipment
QVF Q Series 100 liter reactor and 30 liter receiver featuring:
Glass vessels and overheads
Phase separator
Mobile structures
HTM's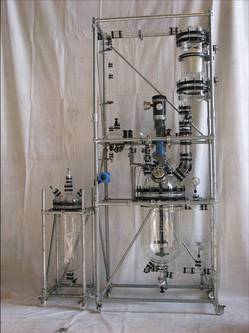 ---
System
High-potency API (HPAPI) development and manufacturing
Location
Midwest USA
Description of Equipment
2 De Dietrich glass-lined steel OptiMix reactors systems, 100 and 200 gallon capacity, with:
Shell and tube overhead condensers
Dual receivers and interconnecting piping
Full function Factory Acceptance Test
Back to top