4 Reasons why Reglassing your Reactor is a Frightfully Good Idea
Jennifer Mayo
|
November 2, 2017
|
3 minute read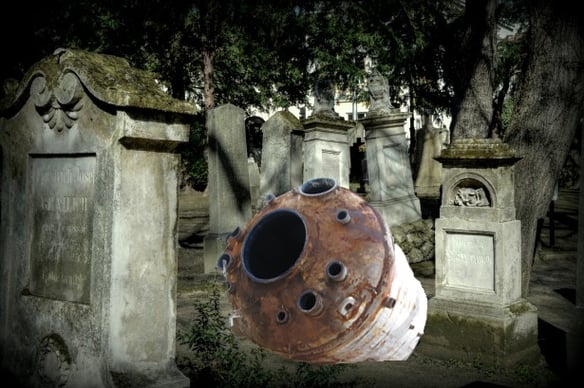 Halloween may be over, but we still thought it would be a good time to ressurrect an old post of ours about reglassing, especially since we recently published a new Introduction to Reglassing brochure. It's a great resource to learn more about the subject and how it can help bring new life to your old, used, or damaged glass-lined steel equipment.
The vessel shown above is actually a reactor that was sent to us by a customer for reglass (embellished with some of my amateur Photoshop skills). Here is the actual "before picture" without the special effects, taken during the reglass evaluation at our Corpus Christi, Texas plant: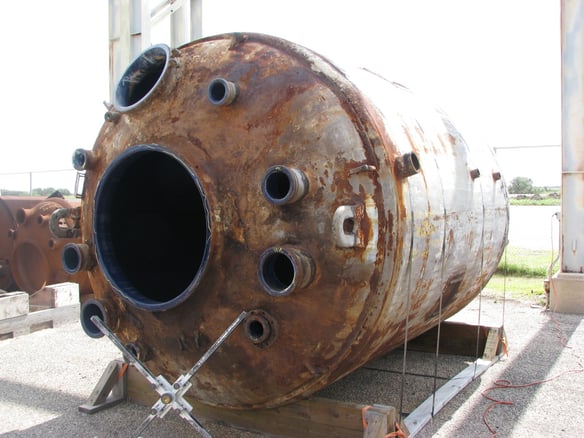 This image may even look familiar to you if you have old, worn or damaged glass-lined equipment currently in your facility. If not, this is an example of what can happen to a reactor that has suffered from extremely harsh working conditions including corrosion caused by chemical attack, environmental effects such as erosion and oxidation, and fractures to the glass lining due to mechanical stresses. While it's far from picture perfect, upon further inspection of the vessel, DDPS actually assessed this reactor as being a great candidate for our reglass service.
If reglassing is a new technology to you, check out our reglass web page or read this post that will familiarize you with the process (or check out that new brochure we mentioned above).
All caught up or already an expert on the subject? Great! Now we can talk about why reglassing is a "frightfully" good idea.
1. It's Faster
Fabricating a glass-lined vessel is an intricate process involving many steps that take a considerable amount of skill and time to complete (click here if you'd like to learn more about how glass-lined vessels are made). Due to the variety of sizes and specifications such as nozzle locations, glass-lined equipment manufacturers typically don't keep a large inventory of stock vessels. Because vessels are manufactured on demand, the order process can take months from the time an order is placed to the time the vessel is delivered and installed onsite. Reglassing, on the other hand, offers a turnaround time that can be measured in weeks versus months since the framework or "skeleton" of the unit already exists. And take it from us, while it may take a customer some time making a purchasing decision, once the contract is signed they usually would like delivery to be "yesterday", so anything that shortens the delivery time is advantageous to the buyer.
2. It's "Like New"
A vessel that is reglassed undergoes the same glassing procedure as a new vessel. The refurbishment process to the steel substrate of an existing vessel is so meticulous that if you were to put a brand new vessel next to the refurbished one you wouldn't be able to tell the difference. Why is that? Because essentially, a reglassed vessel is the same as exact quality as a brand new one. So much so that most glass-lined equipment manufacturers (including De Dietrich Process Systems) will provide a warranty for a reglassed vessel that is identical to the standard warranty that comes with new vessels. If you have any reservations about reglassing from the standpoint of it resulting in a second-class piece of equipment in terms of quality, you can rest assured that is a complete misconception. Refurbished units are just as good as new ones.
3. It's Cost Effective
With reglassing, you are using the frame of an existing vessel, and that saves on the cost of steel as well as the labor needed to build the vessel. Less materials and work equates to substantial price cuts – as much as 50% off the list price of a new vessel. Considering today's most common-sized reactors, that would mean reglassing can provide a 4,000 gallon vessel at approximately the cost of a new 2,000 gallon vessel. Rarely is there a company that is not looking to save money wherever they can, so this is definitely a good selling point if you are trying to win the support of your plant manager.
Reglassing is also cost effective in terms of cash flow. Many companies find reglassing, which is considered a maintenance budget expenditure, preferable to a new capital expenditure. Capital spending is usually more difficult to get approved too so it's often less of a hassle for you to get a purchasing order generated for reglass service.
4. It's Environmentally Friendly
In a world where everyone is continually taking more effort to reduce waste through recycling and repurposing materials, reglassing is a great way to minimize your company's carbon footprint (not to mention, this environmental consciousness pairs perfectly with a company's objective to minimize capital costs). Reactors and tanks may not be buried in graveyards like we depicted above, but far too many vessels prematurely end up in a junkyard. But how can you tell if your vessel is a reglass contender or if it is beyond repair? If you are unsure, a qualified service technician can inspect it for you.
Instead of throwing out your vessel and buying a brand new one, you can actually refurbish your existing one and restore it to "like new" condition at a fraction of the cost. How amazing is that?! So if any of your equipment looks like the image at the beginning of this post, fear not. It has potential to look like this: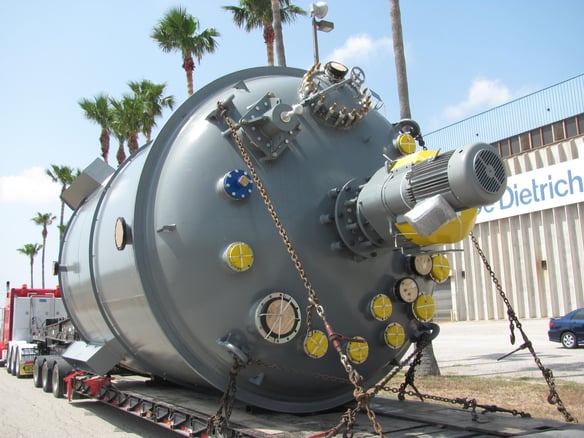 Or like this, if you want to upgrade to a HemiCoil jacket (reglassing is the time to think about any additional upgrades you'd like to include in your vessel's refurbishment):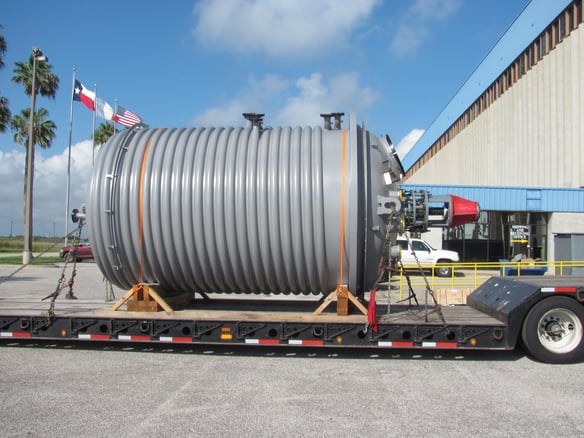 De Dietrich Process Systems offers an affordable reglass service on our own vessels as well as on competitors' equipment. Even if you're unsure if your equipment qualifies for reglassing, it's an affordable solution worth looking into. Check out our Introduction to Reglassing brochure for additional information. Or, for a complimentary quote, fill out our Return Equipment Questionnaire to provide us with more information about your equipment so we can better assess if this is a viable choice for your equipment.