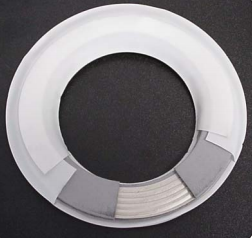 Upon first glance, a gasket may appear to be an inconsequential part in a robust reactor system, but the job of this component is critical to the successful operation of your vessel. The role of a gasket is to create a tight seal between two components to prevent the unwanted emission of liquid or gas. Failure to do so can be catastrophic to your operation!
The extreme temperatures and pressures under which glass-lined vessels often operate make it imperative that you select the right kind of gasket to withstand the specifications of your process.
Since compression is required to maintain the seal, gaskets are typically made with a malleable material, such as PTFE (polytetrafluoroethylene). A supple material like this is able to more effectively create a seal between the harder surfaces of the components it is placed between than a gasket made from rigid material, such as stainless steel.