Clamped-Top Reactor Benefits
Jennifer Mayo
|
June 22, 2023
|
2 minute read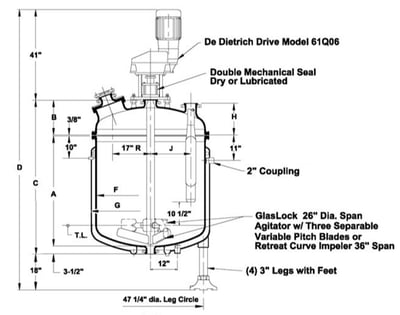 If you're in need of a chemical reactor, a little bit of research will show you that there are a lot of options out there. Even if your process helps to narrow it down for you by dictating the material of construction that's required (which is often the case for those utilizing glass-lined steel vessels), there is still a significant number of choices to make. While we've posted articles in the past that review all the different selections (our post on glass-lined reactor model comparison goes into greater detail on the many options available) we wanted to dedicate this write-up to the clamped-tops, highlight the unique attributes of this specialized design, and tell you about some features that make a De Dietrich one stand out.
What makes a clamped-top reactor different from other reactor designs?
Whereas most vessels are built with a manway opening in the top head as the solitary way to access the vessel interior, clamped-top reactors feature a fully removable head. The top head still features a manway opening, but additional clamps are placed around the circumference of the top head, keeping it firmly secured to the vessel body when in use. Depending on the size of the vessel, there can be up to 80 clamps installed on the top head.
What are the benefits of the clamped-top design?
For processes that have higher cleaning demands due to the nature of their product, the removable top head provides access with no obstructions, simplifying the cleaning process (especially when spray balls are not being used).
The clamped-top design also allows for internal and jacket pressures ranging from full vacuum to 100 psig, so although it's not as high as some closed-welded vessel designs, it still offers a wide range of allowances that are suitable for the majority of applications.
The drive nozzle is centrally located in the top head and does not obstruct other nozzles from being used for additional process instrumentation and needs. Here is a drawing that illustrates the nozzle arrangement on a De Dietrich 300 gallon clamped-top reactor: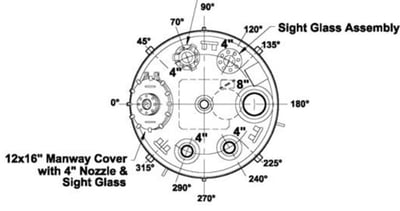 What sizes do clamped-top reactors come in?
Due to the engineering of the design, clamped-top reactors are only available in small to mid-size vessels. At DDPS, we manufacture our "CTJ" clamped-top reactors from 5 to 2,000 gallon volumes, though the design is really intended for vessels up to 200 gallons. The sizes within that capacity range provide the versatility required to meet R&D, pilot plant and even full-production needs (depending on the scale of your process).
What else stands out about De Dietrich clamped-top reactors vs. other brands?
Wall-mounted OptiMix baffles are also available as an option on De Dietrich CTJ vessels, optimizing mixing performance and heat transfer while keeping nozzles free for other process use (for more information about OptiMix read our post on how wall-mounted baffles boost glass-lined reactor mixing performance).
Additionally, DDPS's GlasLock agitator system is available for clamped-top reactors larger than 200 gallons and provides superior process flexibility, giving users the ability to individually adjust and interchange blade styles and angles to meet changing process needs. The installation / changeout / removal of these are mechanical and do not require cryogenics.
If your process requires a small to mid-size vessel and glass-lined steel is a viable option for your application, a clamped-top reactor is a great design that could be well-suited for your process. For more information and to discuss your specific process needs, contact us, or download our Introduction to Glass-Lined Equipment eGuide to learn more about glass lining and the benefits of this material of construction.