Holiday Gift Ideas for Your Process Equipment
Jennifer Mayo
|
December 18, 2014
|
4 minute read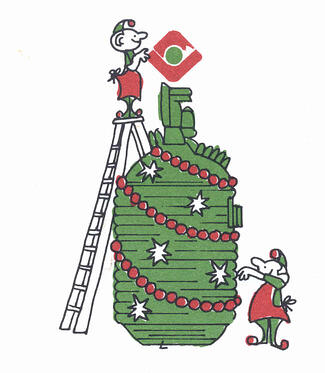 Virtually every retail website offers gift ideas based on some type of search criteria to help you filter your options down to find just the right gift for each "special someone" in your life. Gifts for him? Gifts for her? Gifts for a teenager? Gifts for a toddler? Or what about the techie in your life, that outdoor-loving uncle, or your vegan niece? What if you're looking to spend $50 or less or just want some ideas for simple stocking stuffers? These are all examples of criteria that we use when searching for gifts online.
While we didn't take the time to establish this type of search capability on our website (let's face it, no one is buying gifts for their process equipment this holiday season) I thought it would be fun to put together some gift suggestions for these hard working machines based on what might be on their imaginary wish lists. And who knows…maybe something will catch your eye and you will consider fitting it in your 2015 budget!
For the "Old faithful reactor that does its job without complaining"
We suggest: Enhancements
Building on your traditional design, a number of enhancements are available to optimize reactor performance. You can think of this like a makeover. You aren't trying to change the essence of your vessel, you just want to add some flare and make it more efficient. A few upgrades that we offer include:
Watch our video "Optimizing the Glass-Lined Reactor" to see how these enhancements can benefit your reactor.
For the "Messy manual material transfer procedure"
We suggest: A system that pneumatically conveys powder
Manual transfer involves operators lifting and dumping containers of powder directly into the reactor. Aside from the health and safety issues that arise during this procedure, there is a huge potential for material to spill or be dropped, creating an unsafe, hazardous working environment filled with dust. Housekeeping issues like this can actually decrease the life expectancy of equipment due to the negative impact of external corrosion. Cleanliness in the workplace is crucial in pharmaceutical, fine chemical, and other applications that rely on sanitary work conditions to uphold the integrity of their product. Furthermore, the cleanliness of a facility and its equipment directly affect productivity, which is a key factor in determining profitability.
A pneumatic transfer system is an ideal solution to help your process operate in a way that eliminates exterior contaminants, preserves the hygienic environment of your process and extends the life of your existing equipment. DDPS' technology, the Powder Pump, works by efficiently, reliably, and safely transferring your powder from one location to another.
Read our data sheet on the Advantages of Pneumatic Conveying over Manual and Mechanical Charging to learn about the other benefits the Powder Pump can provide when integrated with your system.
For the "Filter/Dryer whose performance just isn't cutting it anymore"
We suggest: Refurbishment
Refurbished equipment refers to the renovation and upgrade of old, outdated, or minimally defective equipment. Equipment reconditioning is a viable solution that is often overlooked due to misconceptions about product quality. Sometimes there is concern that the filter/dryer will not perform at peak efficiency, but the truth is this equipment option can help keep your daily operations running the same way new equipment would with the added advantages of cost savings among others. DDPS can take your equipment and perform various repairs, part replacement, reassembly and upgrades while completely maintaining or enhancing the original identity and functionality and meeting or exceeding the original performance specifications. In addition to the cost benefits of revamping equipment, there are also a number of benefits for any company looking to reduce their carbon footprint. DDPS refurbished equipment and systems are remanufactured and certified to "like-new" condition and we offer the same performance, quality, warranty, and support that come with our new equipment.
If you'd like to learn more about the benefits of refurbishing your filter/dryer check out this recent blog post.
For the "Chemical production plant that could use a little TLC"
We suggest: Peripheral Equipment
Through the integration of peripheral equipment with the core components of your system, you can completely customize your operation based on the specifications of your process. Some of the auxiliaries that are available include:
Components that provide cGMP design
Feed, sampling and product storage or transfer
Distillation, phase separation and filtration apparatus
Instrumentation
Controls and automation
Solvent recovery and pollution control (exhaust scrubbers)
Portable carts (dosing and vacuum)
For additional details specific to De Dietrich Process Systems' ancillary offerings, visit our peripheral equipment webpage.
For the "Perfect glass-lined reactor system who seems to have it all"
We suggest: A Preventative Maintenance Package
When it comes to any type of process equipment, there are a lot of components that need to be looked after and maintained. Glass-lined equipment is no exception – in addition to the glass lining, there is the agitation system, various accessories that comprise the interior, as well as the vessel exterior. Even if your equipment is in pristine condition, it's not too early to start thinking about a preventative maintenance program; in fact, this is the perfect time to proactively consider what needs to be done in the future to keep your vessel running as well as it is today. The program by De Dietrich Process Systems is designed to meet your most demanding needs for preventative maintenance on all glass–lined steel process equipment, including OSHA's Process Safety Management requirement for mechanical integrity of process equipment. Benefits of such a program are an extensive documented inspection history for each vessel covered thus aiding in projecting and prolonging the equipment's life; preventing possible severe damage before it occurs; and a periodic extensive inspection by an experienced and trained specialist. Click here to read more about what our preventative maintenance program includes.
As we close the year out, we'd like to thank all of you who have been reading our blog and hope that you continue to visit us in 2015 as we cover unchartered ground and discuss some new, exciting topics (that promise to be more technical and informative than our lighter, holiday themed posts). Happy Holidays to all!