Manual Nutsche Filters
Manual nutsche filters allow for simple and effective liquid/solid separation solids in a single portable device, minimizing product contamination and exposure. The three models available, varying by material of construction, include:
Glass-Lined Steel Nutsche Filter
---
ROMAN Filter Product Description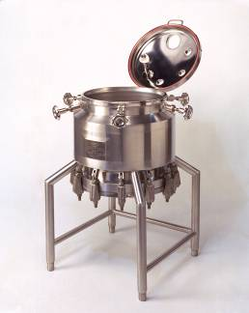 The ROMAN Filter is a simple, manually operated nutsche filter with the pedigree you know and expect from the Rosenmund brand name. It is quality process equipment with the same attention to detail, but in the simplest form demanded by your operational needs and budget.
ROMAN Filter Applications
The ROMAN is designed for quick turnaround between campaigns, with its key focus on cleaning and filter media change-out.
ROMAN Filter Features
Whether at full vacuum, high pressure or both, the filter plate is designed to withstand pressure above the filter plate and full vacuum below, thus allowing a greater differential. The dual flange design (positioned top and bottom) allows quick and complete access for visual and physical inspection, (i.e. swab inspection). Additionally, the ROMAN Filter has a unique cart assembly used for both lowering the filter plate and moving the filter from location to location.
ROMAN Filter Advantages
Mobile - only one cart assembly is needed for all ROMAN Filter sizes, minimizing required storage.
Easy inspection
Pharmaceutical design - it is completely suitable for CIP and WIP with no crevices or product hold-up areas.
ROMAN Filter Specifications
Volumes from 30 to 225 liters
Pressures from full vacuum to 90 psig (6 bar)
All metal surfaces are of a high polish finish - 10 to 20 Ra internal, 20 to 30 Ra external
---
Glass Nutsche Applications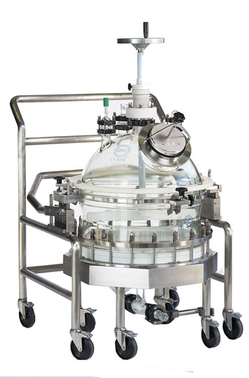 The glass nutsche facilitates a variety of batch vacuum filtration requirements as often encountered in kilo lab operation, chemical product development and pharmaceutical intermediate manufacturing.
Glass Nutsche Features
The arrangement for the glass nutsche includes the following components:
QVF Borosilicate glass filter body
QVF Borosilicate glass reactor cover with nozzles for agitation, vent valve and feed dip pipe
QVF Borosilicate glass bottom cover with drain / vacuum outlet
Virgin PTFE filter support plate
QVF agitation system
Manual vessel lifting/lowering/swivel for access to cake and filter media
Support structure constructed in stainless steel pipe and PTFE-coated Kee-Klamps
Glass Nutsche Advantages
All process wetted parts are non-metallic, such as borosilicate glass and PTFE, thereby providing superior corrosion resistance, product purity and process visibility.
Glass Nutsche Specifications
Pressures from full vacuum to 14.5 psig (1.0 bar g)
Temperatures from -4°F (-20ºC) to 250°F (120ºC)
Glass Filter Body Volume: 20 liters (5.3 Gallons)
Agitator Motor: XP, 230/460V, 1/2 Hp, 1200 rpm
Gear Reducer: 0 –100 RPM, Manual
Back to top
---
Glass-Lined Nutsche Filter Product Description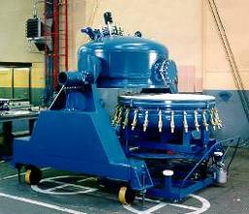 The DDPS Nutsche filter offers faster and more efficient operation than an open vessel because it can be operated under pressure or vacuum.
Glass-Lined Nutsche Filter Applications
Typical applications for the Nutsche filter include processing pharmaceuticals, high-purity organic chemicals, dyes and precious metals.
Glass-Lined Nutsche Filter Features
The Nutsche filter is glass lined for an easy to clean, anti-corrosive finish. The top head is clamped-on and completely removable for full access. A heavy-duty davit swings the cover away with no lifting or hoisting required. The body section is clamped to the bottom head with a flanged joint to hold the filter media securely in place. The bottom section with support plate can be lowered for easy changing of filter media. Heavy-duty lifting lugs are standard. A stainless steel retaining cable holds all vessel clamps in place so they can't be dropped or fall into the vessel when loosened. Clamps and nuts are zinc-chromate treated, and protected with elastomeric clamp nut covers to resist atmospheric corrosion.
Glass-Lined Nutsche Filter Advantages
The closed vessel design protects personnel and equipment from uncontrolled vapor emissions as well as protecting the batch from accidental contamination.
Glass-Lined Nutsche Filter Specifications
Pressures from full vacuum to 100 psig (6.6 bar)
Options
A hydraulic or pneumatic mechanism for lifting the clamped top head or body section
Vessel top closed-welded with a large clamped manway access
Casters for portability of bottom section, or of entire vessel
Vessel jacket for efficient heating/cooling of filtrate
Open vacuum filters
Stainless steel clamps
Back to top