Powder Transfer Solutions
Depending on your transfer needs, DDPS offers two main types of solutions, with a number of options to make the equipment customizable to fit your specific needs: .
Powder Pump - Ideal for batch or metered charging, larger quantities, continuous processes.
CSV - Contained Transfer System - Suited for small volumes, single use applications, lower cost/disposable containment.
---

Powder Pump Product Description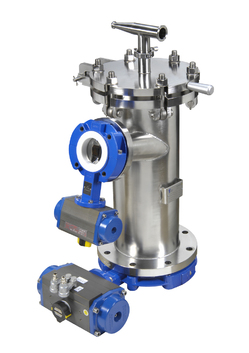 The Powder Pump is designed to transfer a wide range of solids from one location to another in a safe, contained and efficient manner. It does the job without opening manways, or exposing operating personnel to the product. Simple in design, construction and operation, the Powder Pump is a multipurpose solution for transferring powder with a range of flow characteristics and particle sizes.
Powder Pump Applications
The Powder Pump utilizes dense phase flow, an operating principle that has been proven on a wide range of solid types, including wet solids. This technology makes the Powder Pump a versatile work horse for the chemical and pharmaceutical industries, as well as other industries with various solid handling needs.
Powder Pump Features
The Powder Pump's standard design includes the body, top head flange and filter assembly. This innovative filter design is based on proven dust filter technology. Notable features of the filter assembly include: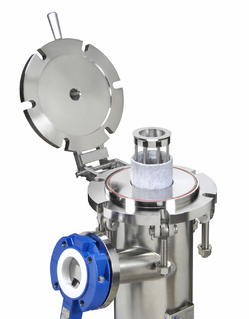 Filter cage:
Chamfered machined edge
Sits proud of filter mounting plate when assembled to ensure pressure sealing o-ring is compressed when assembled
Filter sock:
Wire sewn into ring at top, forms a seal when assembled
Filter mounting plate:
Machine Chamfered edge mates with equivalent chamfer on filter cage and sealed by filter sock
Pressure sealing o-rings on both top and bottom
Sandwiched between upper body flange and top head flange
All components are supplied from the US, enabling faster delivery.
Powder Pump Advantages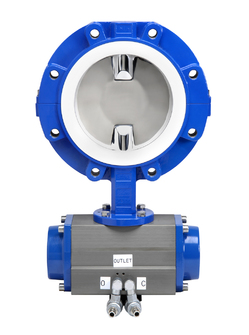 There are many health, safety and money-saving advantages of the Powder Pump:
Ability to have a closed system providing a dust free environment
The ability to charge with vessel under pressure or vacuum or with solvents already in the vessel
The ability to charge carcinogens, oxygen or skin sensitive and explosive powders safely. Suitable for transfer of raw, intermediate or finished products
Ideal for FDA services
Ability to charge while retaining an inert atmosphere, by keeping the vessel closed without opening the manway
Considerable reduction or elimination of operator exposure
Considerable reduction in the risk of explosion, caused by static electricity, due to low velocity, dense phase transfer
Improved well being of the operator and elimination of risk of operator back injury or exposure to nitrogen
All pneumatic design is reliable and ideal for explosion proof zones
Reduction in manpower required to charge the vessel
Improved agitation and thus reduced batch time, through controlled material addition
Elimination of exterior contaminants
Protection of the agitator and seal system from deflection or damage due to overcharging of solids during mixing
Elimination of the need to start the agitator in excess solids
Reduces solids handling and eliminates hoists and handling equipment over the reactor
Substantially reduces equipment maintenance
Permits easy scale-up from pilot to production plant
Ability to service several reactors with optional portable version
Much easier to clean than conventional vacuum conveying equipment. CIP available
Powder Pump Specifications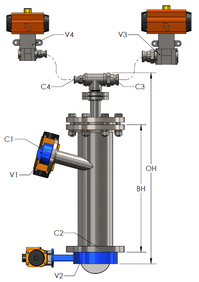 Sizes from 4" to 16" (outlet flange diameter)
Available in stainless steel, Hastelloy, and glass
Dimensional and utility data: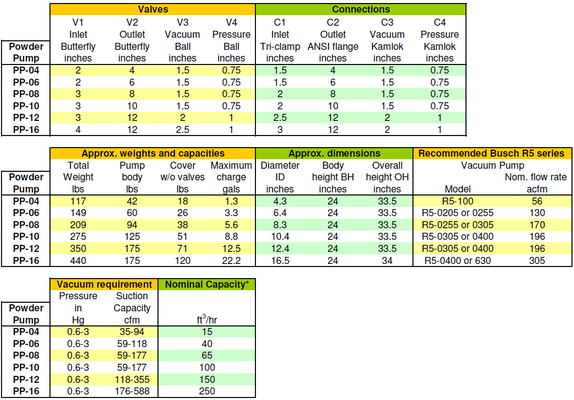 Transfer capacity is dependent upon a number of factors, including properties of the powder, transfer distance, and packaging of the powder to be transferred. These values are representative of typical capacity but should not be used for actual sizing. Please contact DDPS to discuss your specific application and determine the system that is appropriate.
Maximum transfer distance are typically 60-75 feet overall and 25 feet in the vertical direction.
This data is for the standard Powder Pump, other configurations are available.
Transfer capacity will vary with product characteristics, transfer distance, bulk density, piping route, vacuum source, etc.
Options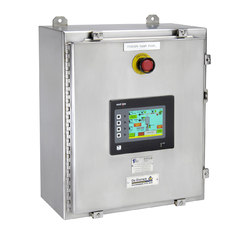 Choose from a variety of accessories to maximize the performance of the Powder Pump for your process.
PLC Controls
WIP design
Bulk Discharge solutions - including suction hopper, big bag station, and bag emptying station
Powder Handling Systems – DDPS can design, construct and support a complete solution for your solids handling process.
Customization – customer wants can be incorporated into the Powder Pump design to create a unique system for your specific needs.
See our Powder Handling Services page for more information about seminars, demonstrations and rental information.
---
CSV Product Description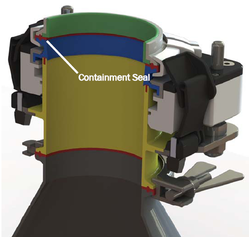 The CSV is a fully contained system for the safe and effective transfer of hazardous and toxic media. This unique solution eliminates the concerns associated with existing split valve and flexible containment technology. CSV is suitable for powders and solids, steriles, tablets and wet cake.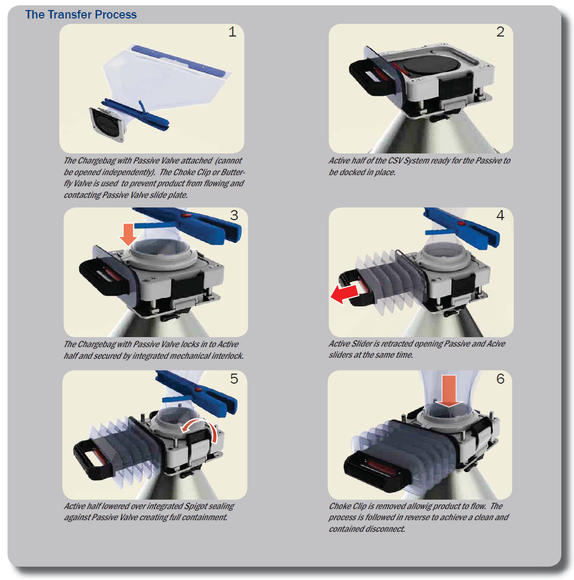 CSV Applications
The CSV is available in a range of sizes and can easily be adapted to most applications. Some sample applications include:
Reactor/Process Vessel Charging
Split Butterfly Valve Replacement
Dispensary/Isolator Discharge
High Shear Mixer Granulator Additions
Mill & Sieve Applications
IBC Additions (API & Lubricants etc)
Small Scale Handling Processes (Clinical & Stability Trial Batches)
Centrifuge Chutes
Tableting & Tablet Coating
Through Floor Feeders
Charge Bag & Bottle Applications
Tray Dryer Transfer
IBC Filling Head & Discharge Station
CSV Advantages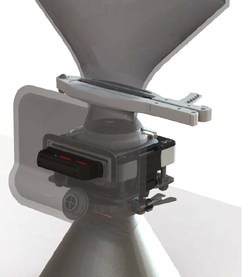 Very cost effective
User friendly
Minimal maintenance
No Flow Restriction - Full Bore
Achieves containment levels (<1μg/m3)
No site services required to achieve containment
Eliminates waste treatment of cleaning solutions
Light weight
Reduces manual handling issues
Maximum yield
Offers secondary containment
Short lead time
Compact suitable for all applications
Not possible to separate when partly open (unlike split valve technology)
Can be used as a Transfer Port - RTP
Bespoke designs possible - square & rectangle section