DDPS Aftermarket Series: Spotlight on Spare Parts [Part 3]
Jennifer Mayo
|
April 18, 2019
|
2 minute read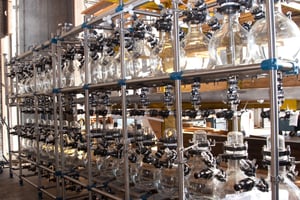 Aftermarket sales play a huge role in the life of your chemical process equipment. When you spend the time and money to purchase a solution from a systems provider such as DDPS, there is a level of service and support that you come to expect when making an investment of this magnitude. We're here to help you extend the life of your equipment and keep your system running safely and efficiently.
The rigorous operations that most of your equipment undergoes makes it essential to keep spare parts on hand to help minimize downtime when service has to be interrupted for routine maintenance or part replacement. In part 1 of this series, we talked about how to determine what spare parts you should have on hand. In part 2, we discussed how to go about ordering a part and tips for identifying the part number of a QVF glass component. In this third and final post, we'll tell you a little about our stocking programs and how you can benefit from enrolling your equipment.
Stocked Parts
At De Dietrich Process Systems, we keep thousands of parts in stock at our warehouse in Corpus Christ, Texas. This inventory consists of our most common standard parts, and they are typically available to ship in 24 hours or less. This accelerated delivery service can come in handy when an emergency comes up and you are in desperate need for a part to avoid a lengthy shut down. Having a stocking program in place will further prevent you from relying on expedited part orders like this and will ensure your process doesn't suffer from unexpected downtime due to emergency part replacement.
Stocking Programs
The Aftermarket Team at DDPS can work with you to develop a stocking program that is built specifically for your operation. By registering your equipment with our Aftermarket Department and providing application-specific information (e.g. how frequently you run your process, batch processing time), DDPS can use this data to design a customized plan will take the guesswork out of when parts should be ordered. And with all of your equipment on file, we can easily access all the part information needed to get you the components you need when you need them. We can even keep parts (or components of parts) in our inventory with a predefined ship date. These dates are determined by a variety of factors including our experience with the average life expectancy of components as well as customer input, such as equipment/system history (if any) and operating procedures.
If you have an existing process, it is important to keep track of your equipment's history, including dates service is conducted and when parts are changed out. Tracking part degradation will help to forecast the life expectancy of newly installed parts, if they are undergoing the same operation specifications. For new equipment, it is important to observe and carefully document service and maintenance work in order to determine how long parts will typically last before needing replacement. With these details, we can tweak your customized stocking program to provide the most accurate time to deliver parts.
Retrofits
Unexpected problems can occur at any time, and we do our best to find a quick solution to minimize their impact on your operation. In some circumstances, we can design retrofits that incorporate standard parts if a custom part is not available and extended downtime cannot be tolerated. These permanent solutions enable the use of standard parts/components and will eliminate the hassle associated with customized parts and their extended lead times. Common retrofits include agitators for glass-lined vessels as well as many QVF components, which offer multiple construction options for pipelines and connections.
If you are interesting in enrolling your equipment in a stocking program or would like more information, contact our Aftermarket Department online or call 908-317-2585 and ask to speak with an Aftermarket Sales Representative.