Chemical Reactors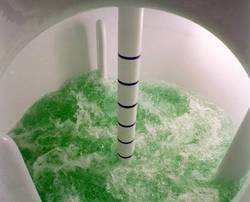 Chemical reactors are a mainstay of our product offering. For highly corrosive materials, or end-products that require ultra-pure environments, DDPS reactors are often the best choice to achieve process performance goals efficiently and economically. Our reactors are available as stand alone equipment or can be incorporated into a system.
Our reactors are primarily manufactured from glass-lined steel (reactors and storage tanks), solid glass or a combination of both materials with a variety of accessories and instrumentation. Each method of construction has its own advantages (and limitations) for process and operation considerations. Learn more about the internal components of reactors and the advantages of each material of construction.
Internal Pressure

0.6 bar g (8 psig)

0.6 bar g (8 psig)

100 psig

>450 psig (consult factory)

0.6 bar g (8 psig)

Internal vacuum

Full

Full

Full

Full

Full

Jacket Pressure

0.5 bar g (7 psig)

0.5 bar g (7 psig)

90 psig

450 psig (hemi)

90 psig

Temperature (Max.)

180ºC

180ºC

260ºC

260ºC

200ºC

Temperature (Min.)

-50ºC

-80ºC

-30ºC

-60ºC

-60ºC

Thermal Shock (Max.)

120ºC

120ºC

120 to 150ºC

120 to 150ºC

120 to 150ºC

Volume

5 to 100 Liters

1 to 20,000 gallons

16 to 400 Liters
Notes:
1. Glass-lined steel allowable Thermal Shock is dependent on vessel temperature.
Back to top